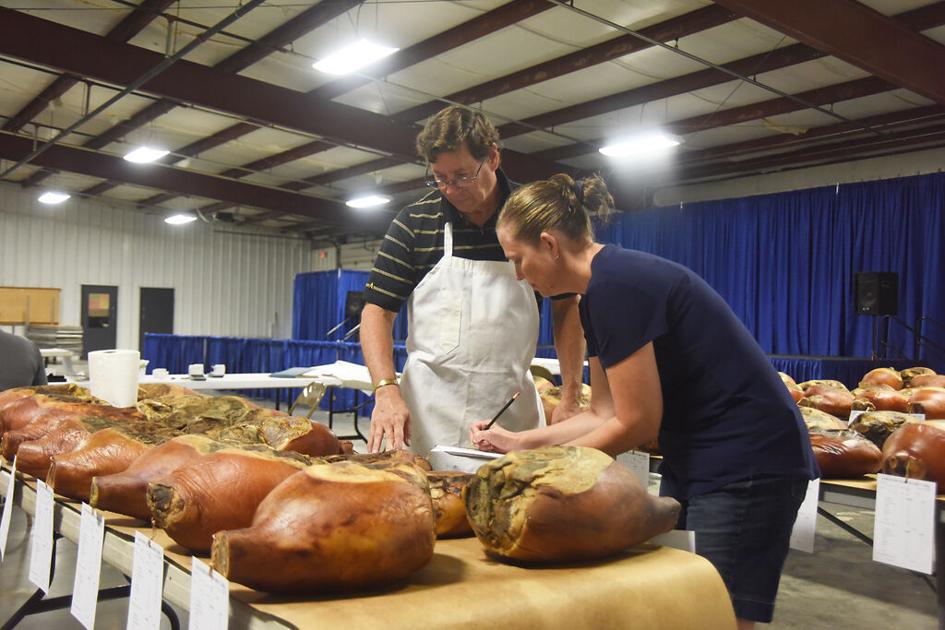 Picking Champion Hams at Boone County Fair is an Art and a Science | Local
More than 140 hams were pushed, pushed, studied and sniffed Monday morning during the annual judgment at the Boone County Fair.
Although the fair officially begins on Tuesday, the ham show informally opens it with the judging of entries in the young and open divisions.
Youth ham registrations are limited to children 5 years of age and older who belong to a recognized organization, such as 4-H or Future Farmers of America. Open Division hams can be submitted by anyone in a Boone County farm unit or household.
There have been 108 submissions in the youth division this year and 32 in the open division. This year's Grand Champion is Travis Lynn, and the Reserve Grand Champion is Garrett Hamilton.
"The Boone County Fair is an outlet for kids to showcase their youthful projects," said Elaine George, Co-Chair of the Boone County Fair's Ham Committee. "It's a good learning process.
The judge was again Andrew Clarke, associate professor in the Department of Food Sciences at the MU. On Monday, he took his time examining each ham for visual appeal, exterior color, skin smoothness, garnish, firmness, flesh and aroma.
Clarke, who said she has judged the Boone County Fair hams at least 15 times, carefully turned them with her hands, rated their quality, and then noted each on an attached card.
"My research interest is in processed products," he said with a smile and a gesture towards the assorted hams.
Exhibitors usually start drying their hams in December. All hams are cured with sugar, or what committee co-chair Ray George called a "traditional Boone County ham".
Exhibitors coat the meats with a curing mixture and let them hang for several months. It's an old-fashioned dry curing technique for preserving meat where sugar is the main sweetening ingredient.
"They didn't smoke them back in the day," said George.
The best 46 hams will be auctioned off at Saturday's Ham Breakfast. Hams for sale must have a score of 91 and above.
The presentation of Grand Champion and Reserve Grand Champion hams will also be held during breakfast.
Hams not sold at the auction will be released on Sunday between 1 p.m. and 3 p.m. Unclaimed hams will be donated to a Missouri food bank.
The Boone County Fair opens at 4 p.m. Tuesday at the Columbia Fairgrounds. Admission is $ 10 at the door for ages 7 and up.