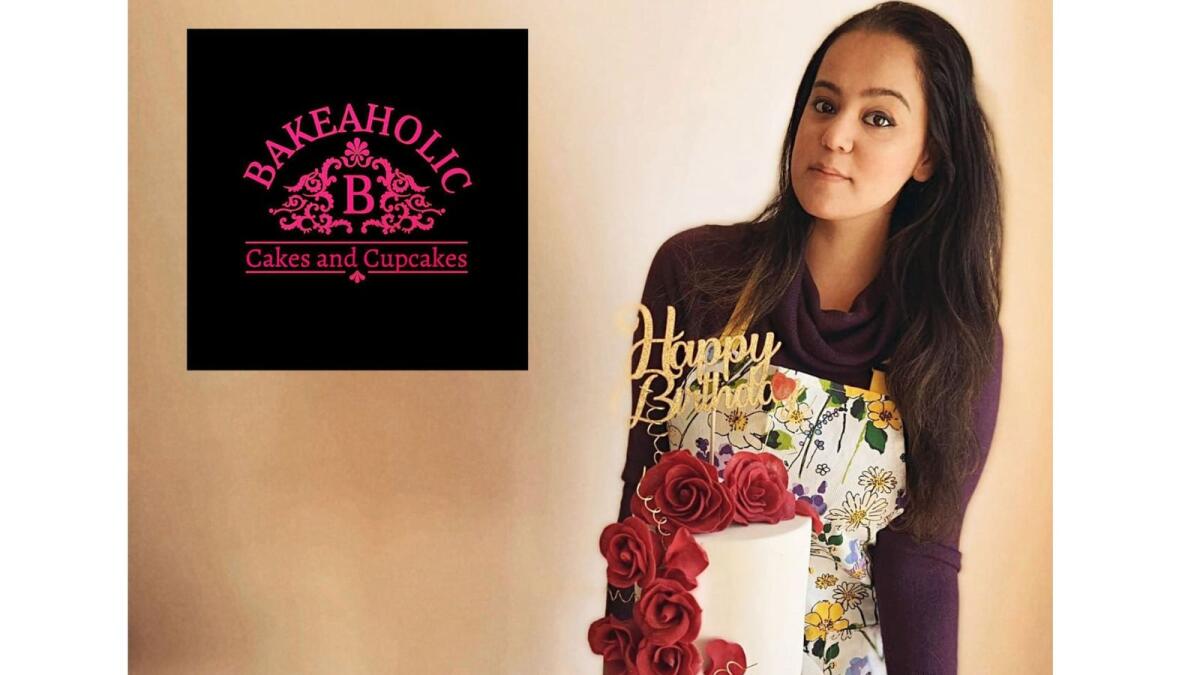 The pastry artist from Karachi
by Rico Biriah
Growing up in Karachi, a city in Pakistan with a population of 16 million, Sadist Bakhtawar never dreamed that one day she would live 6,500 kilometers from Monksland, Athlone, and own a cake-making business on measure which would rightly be called Bakeaholic.
"In Pakistani culture, the daughters of the family learn to cook from an early age, so I knew how to cook. But professional baking was definitely not something that was never on my radar. I am a self taught pastry chef and have spent countless hours experimenting in my kitchen and learned the trade through trial and error. My driving force was to make the nicest and tastiest cakes for my friends and family, and I never thought people would pay me to bake cakes and buns! "
Karachi to Manchester
Bakhtawar grew up in a traditional Muslim home alongside his four sisters and brother. Her father was in the Pakistani army while her mother ran a successful clothing store. She had planned to use the business diploma she had obtained to get a good quality job in Pakistan.
However, around 11 years ago, Bakhtawar left the bustling megalopolis of Karachi with its overflowing culture and customs for the city of Manchester, England, when she married Mancunian Raghib.
Bakhtawar lived in the Cheetham Hill district of Manchester for around six years with Raghib and had two young boys.
"When I lived in Manchester, I baked birthday cakes for my family and friends to keep me busy at home. I once had the courage to display my cupcakes at an Asian wedding show. My samples went really well and this experience gave me a much needed boost of confidence. "
Manchester to Monksland
In 2016, Bakhtawar made a much shorter trip across the Irish Sea from Manchester to Monksland, Athlone, as her husband's job required her to move to Ireland. She explains why the family chose Athlone:
"Raghib travels a lot for work, and he had to be in a central location, and Athlone is literally the heart when you look at a map. It was the perfect place. Neither of us had been to Ireland before and didn't know anyone here. I was so lucky that my new neighbor in Monksland, Sandra Hewitt, was the most wonderful woman. She introduced me to a lot of people in the community. My oldest son was four and a half at the time and he integrated very well into the local school. I am in awe of the natural beauty of Ireland and can honestly say that I have seen more of Ireland than ever before from England. Athlone is where I now feel grounded, I feel I belong here. Athlone is home now.
Bakeaholic is back
Bakhtawar hadn't planned on making cakes for sale but had been persuaded to do so by her friend Sandra who knew Bakhtawar had talent and flair. Putting her money where her mouth was, Sandra became the first paying customer by ordering a cake for her daughter's birthday. Through word of mouth people heard that Bakhtawar can bake wonderful birthday cakes and it gave her the initial marketing boost she needed.
A Facebook page that had been created by Bakhtawar for the Asian wedding was reactivated and Bakeaholic was back!
"At first I was probably getting about one or two orders a month, and I realized I could easily cook a lot more. So I got a regular stall at the Athlone Springs Indoor Market each month, as well as stalls at events at the Hodson Bay Hotel and the Radisson Hotel in Athlone. My promotion at the covered market and events gave people the opportunity to taste the cakes themselves. Additionally, I could personally reassure people that my small home-based cake making business was fully registered and in compliance with the necessary Health Service Executive (HSE) regulations. The promotion and marketing was worth it as I had an influx of clients that gave my business the traction it needed.
Show of a woman
The first cake Bakhtawar made was a crème fraîche cake. She has always preferred banana bread and crème fraîche cakes. At home, her family isn't a big fan of buttercream or frosting. The first cake she made to order was a Minnie Mouse cake, followed by a farm-themed cake. Both cake recipients were delighted with the novelty factor and the attention to detail
Bakhtawar makes all the cakes herself and loves it. "Two restaurants asked me to cook for them, but I didn't want to. I like my niche. I am a cake decorator and do not consider myself to be a mass producer. I never liked mass produced cakes. I love the art of creating something from scratch that has the wow factor. If my workload is too heavy, I just reduce. I have a part-time evening job in an insurance company, my baking is done on weekends, and I'm a full-time mom! Nothing leaves my kitchen unless it tastes good and looks good, and I never want to lose sight of it! "
Artistic Cake
Two of Bakhtawar's sisters are good artists, and she too believes that she inherited an artistic streak from her creative mother. The presentation of her cakes is just as important as the taste, and she is more than happy to personalize every piece of cake art that comes out of her kitchen oven.
"Design and taste are the key to me. If you come and tell me that you don't like buttercream but prefer crème fraîche, that's fine with me, I can customize it for you. If anyone desperately wants a Manchester United theme on a crème fraîche cake, so will I, while others won't.
"A customer wanted a suitcase-shaped cake with a Ralph Lauren bag on it. She handed me the bag and told me to copy it! I must have made this cake entirely with chocolate.
"Then another lady came in and said, can you make a 3D rose with chocolate petals. I live for the madness and eccentricity of people's ideas.
"I made my first LGBTQ cake last year. It was a lovely experience. One of the grooms was abroad but knew me through his family. He said he wanted to give his heart to his partner. So, I gave her ideas involving cute love hearts. But he wanted an anatomical heart-shaped cake with blood and dummy guts! It was a creative challenge, but I had so much fun doing it for him. I had never done anything like this before, ever. I had never made that pretty wedding cakes!
Bakeaholic: https://www.facebook.com/Bakeaholicie